Bryce 3D images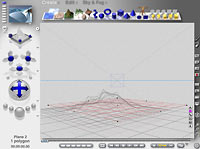 Pretty time ago, when a had 486 computer, I had had Bryce 3D program. I have made some mountain landscape, switched rendering parameter to fine and started the program. My computer said "I'm die, damn you..." and died. I buried it in the sand and bought new one and made some pictures and after words deserted all of that.
Recently I've found some old CD with my old pics and decided to post them here. Why not?
About the program
Bryce is a 3D fractal landscape modeling, rendering and animation program. It is name after famous Bryce Canyon in Utah, USA. It's father was Ken Musgrave, interface designer - Kai Krause.
First release Bryce 1.0 was in 1994 by MetaCreations Corp. Bryce have changed several owners and now it is developed by DAZ 3D, current release is Bryce 7 (July, 2010) in three in 3 versions: a limited version for free, a standard version lacking some features and pro version with all new features.